The dipstick. It used to be one of the simplest parts of any car and even today, when most cars' engine oil level is measured electronically, it's still a pretty uncomplicated thing. Back in the early 1960s a dipstick was exactly that – a stick sunk into the engine's sump to measure the volume of oil in there.

The stick is stamped with 'min' and 'max' lines on it, a collar fixed to the upper part of its stem ensuring that it stops at the correct point when pushed home into its orifice. Not much to go wrong there, you'd think – unless the markings are in the wrong place.

And that was one of several engineering errors that poisoned the life of the 1964 Austin 1800. And there were quite major errors from other British Motor Corporation departments too.

Related: Inside Ford's Heritage Workshop (Motoring Research)

But after three massive hits and one miss, it was easy to think that Mini designer Alec Issigonis could produce another runaway winner with his largest front-wheel drive model yet. The hits were the Mini itself, which after a slow start was now selling fast, the Morris 1100, which rapidly became Britain's best-selling car and before these the Morris Minor, which was the first British car to make over a million sales.

The miss was a V8-powered Alvis with rubber suspension, development of this big, expensive and complex saloon fortunately abandoned before it made production. Issigonis had gone to this long defunct luxury car-maker after designing the Minor, but was later lured back to BMC where he would eventually be given the task of engineering the Mini.

Before that, he worked on a replacement for the Pinin Farina-styled Austin Cambridge and Morris Oxford, these stolid saloons and their pricier Riley and MG stablemates as British as pie and drizzle.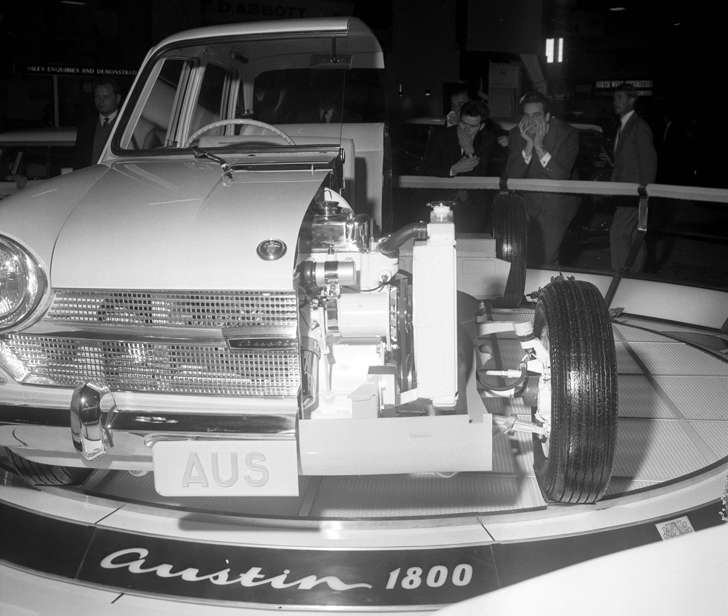 © PA Images via Getty Images Austin 1800 at the 1964 Motor Show at Earls Court, London That car was codenamed XC9000, and would probably have emerged in 1960 had it not been for the 1956 Suez crisis and the petrol scarcity it provoked. BMC switched its efforts to building a small car – the 1959 Mini – in favour of XC9000, followed by the 1962 Morris 1100.
The 1100 was effectively a bigger, more sophisticated Mini, and the 1800 would be a still bigger version of that. The 1100 had the same transverse engine as the Mini, the same astonishing roominess and the same grippy, low-roll handling.
The differences were four-doors, a flourish of Pininfarina styling and engineer Alex Moulton's ingenious Hydrolastic suspension. Hydrolastic combined rubber springs and interconnected, fluid-carrying pipes to produce a ride vastly less painful than the Mini's, even if an 1100 turned almost comically bouncy at times.
BMC engineers nicknamed it the shirt-lifter (the term had yet to gain seamier resonances) the 1100's jiggling occupants likely to have their shirts untucked from their trousers.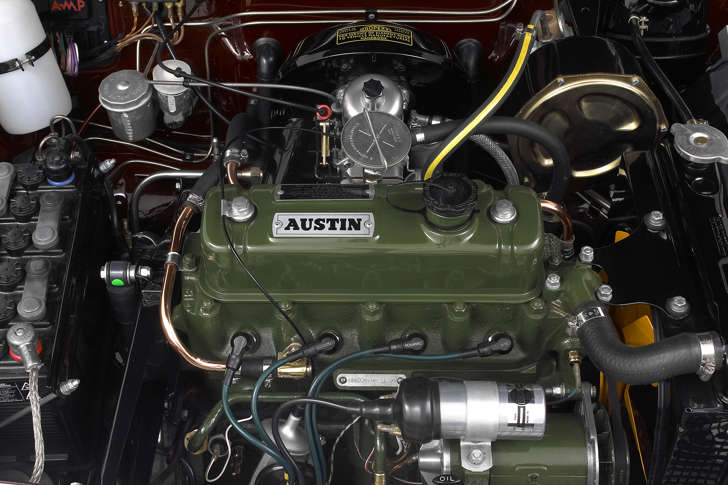 © National Motor Museum/Heritage Images/Getty Images 1965 Austin 1800 engine in immaculate condition, 2000. Despite the dubious ability to part-undress its passengers, the 1100 was the most advanced car in its class and had dynamics to match. But before this or the Mini were launched the XC9000 project was revived and converted to front-wheel drive, prompting a codename change to XC9001.
The idea was still to replace the Oxford and Cambridge with a medium-sized, front-drive 1500cc saloon, but that ambition was soon critically deflected.
In fact it was almost a foot shorter, but XC9001 looked longer because its wheelbase had grown six inches, and it was also much wider. The result was spectacular interior space, but a car of unconventional proportions and a radical mechanical layout likely to deter Farina saloon buyers, who would have felt as uneasy driving this car as they would leaving the homes without a jacket, tie and trilby.
Not that this was apparent as the project evolved. The task of styling the car fell to both Austin Morris's own designers and Pininfarina, and this time it was the in-house team proposal that got the go-ahead, the Italian coachbuilders cleaning up this version's details. The end result was more appealing than the prototypes, but unlikely to trigger involuntary mouthings of 'beautiful', 'elegant' or 'stylish'.
More likely, once it was launched, would be the mouthing of expletives as disappointed owners discovered that BMC had once again failed to finish the development process. Launched in October 1964, XC9001 had undergone a codename change to ADO17 and built on the innovations of the smaller 1100.
© Provided by Motoring Research Morris 1800 © Defacto/Wikicommons But the new Austin 1800 was undone not by these features but that pesky dipstick, whose faulty calibration caused the engine to be overfilled with oil, which it burnt in ominous plumes of blue smoke. Other problems included failing engine mounts, scuffing front tyres, rattling steering racks and a gear lever that couldn't resist a fight. And once you'd actually battled your way into first or second, the lever would often jump back out.
Fury would be heightened by the Austin's switchgear, which was so distant that when you were strapped in with static seatbelts, you couldn't reach much of it. A distant underdash handbrake and an awkwardly angled steering wheel made this supposedly semi-luxurious saloon a physical battle to drive.
All of which smothered a long list of positives. Apart from its almost improbable interior space, the 1800 had road-holding, handling and steering vastly superior to the wallowing Ford Zephyrs and Vauxhall Veloxes it ended up competing with, and made the Farina saloon feel as wield as an encyclopaedia-packed bookcase.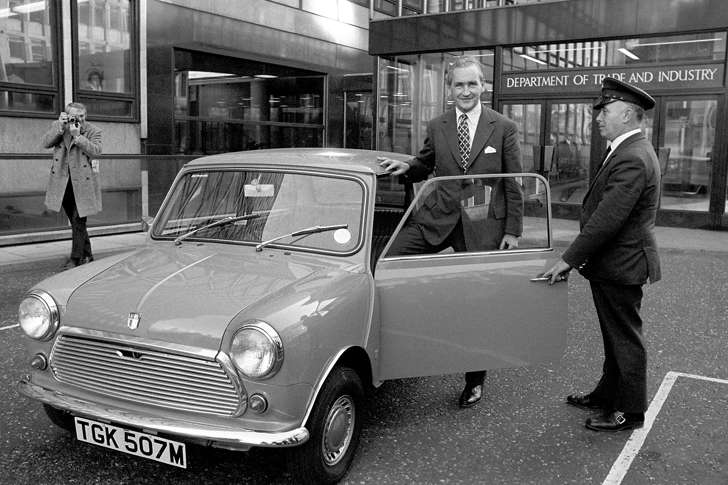 © PA Images via Getty Images Tom Boardman, Minister for Industry, sets an example in fuel economy when he chooses a Mini over an Austin 1800 or Rover 3500 Its body was immensely strong to compensate for the deletion of suspension sub-frames, it mostly rode without too much short-lifting and performed decently with its 1.8 engine. But proof of BMC's unfinished work came mere months after the launch with the rapid addition of reclining seats and a rear armrest as options, a change in the final drive ratio to quieten the engine at a cruise and a series of modifications to fix its mechanical maladies.
But the biggest modification of all was to BMC's production forecast. Doubtless boosted by the success of the 1100 and Mini, its dealers reckoned they could shift 4000 Austin 1800s a week. Without investigating much further, BMC tooled up to produce just that number.
Had they done more market analysis – incredibly, BMC had no market research department at the time – it would have uncovered the fact that cars in the 1700-1800cc category accounted for five percent of new car sales, while those in the 1400-1500cc class accounted for almost a fifth of the market.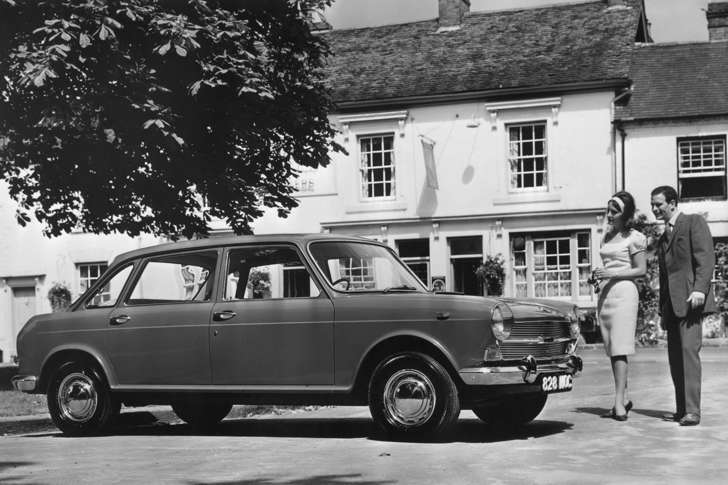 © ullstein bild via Getty Images British Motor Corporation (British Leyland) – Austin 1800 The 1800 also cost 14 percent more than a Farina saloon, which by the time of the new car's launch BMC had decided to keep in production, having recognised that it had not produced a replacement. It didn't take many seasons for it to also realise that it had not produced a winner in the 1800, which managed no more than 40,000 sales per year at its peak, compared to the predicted 200,000.
The 1800 was the wrong size, the wrong shape and the wrong price, a hurricane-force set of headwinds that its not inconsiderable qualities couldn't overcome. Proof of its toughness came with a near-victory in the gruelling 1968 London-to-Sydney Marathon, and it was in Australia that the 1800 sold best, achieving a much healthier market share than it ever did in Britain, before being facelifted into the Kimberley and Tasman models that the UK never got.
The 1800's failure marked the start of designer Alec Issigonis's gradual falling from favour, and was the first of many serious mistakes that drove BMC into merger with British Leyland and yet more trouble. But that's another disaster story. – Msn