NEW YORK (Reuters) – Serena Williams said she did not know her coach was giving her instructions and had "never cheated in her life" after her hopes of winning a 24th Grand Slam title ended in extraordinary scenes at the U.S. Open on Saturday.
Serena Williams insists she didn't know her coach was giving her instructions and had "never cheated in her life" after her hopes of winning a 24th grand slam title ended in extraordinary scenes at the US Open on Saturday.
The American received three code violations, including a game penalty for verbal abuse, from chair umpire Carlos Ramos in the final, where she was beaten by Japan's Naomi Osaka 6-2 6-4.
After Williams lost the first set to the Japanese 20th seed, Ramos gave the American the first code violation early in the second set for getting instructions from her coach Patrick Mouratoglou.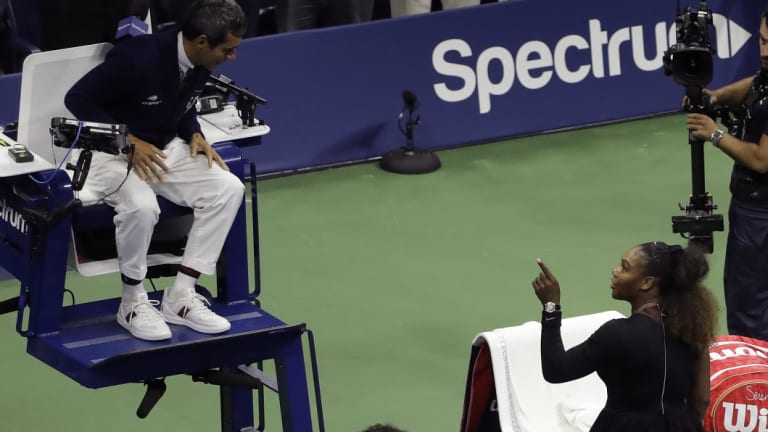 Mouratoglou later said he had been giving her instructions, but added he did not think Williams had looked in his direction. He said Osaka's coach Sascha Bajin had also been giving his player advice.
"If I'm honest I was coaching, I don't think she looked at me," Mouratoglou told ESPN. "Sascha was coaching every point too."
Out on court, an unsettled Williams protested her innocence, telling Ramos: "I don't cheat to win. I'd rather lose. I'm just letting you know."

She added in her post-match news conference that she had asked Mouratoglou why he said he was coaching her.
"I just texted Patrick, like, 'What is he talking about?'" Williams told reporters. "I'm trying to figure out why he would say that."
Williams continued protesting to Ramos during a changeover, but returned to break Osaka's serve to go 3-1 up in the second set.
But Osaka broke back in the next game and the American smashed her racquet in frustration, earning a second code violation and a one-point deduction from Ramos.
The deduction enraged Williams and she screamed at Ramos at the next changeover, drawing the game penalty after she called him a "thief".
All of the sanctions were supported by Richard Ings, a former vice-president of the Association of Tennis Professionals (ATP).
Carlos Ramos one of the few umpires not afraid to call a rules violation against the top players when it is due. It is his colleagues who are letting him down with their inaction, which then leads to situations like this in which players feel they are receiving unfair treatment. https://twitter.com/BenRothenberg/status/1038546755116322817 …
"I have never cheated in my life," she said. "I have a daughter and I stand for what's right for her. I've never cheated and you owe me an apology.
"You will never be on another court of mine as long as you live. Say it. Say you're sorry.
"And you stole a point from me. You're a thief."
Afterwards, Williams said Ramos had never taken a game from a man for calling him a thief and referenced Alize Cornet being given a code violation for changing her shirt on court earlier in the tournament as another example of double standards within the game.
"I can't sit here and say I wouldn't say he's a thief, because I thought he took a game from me," she said. "But I've seen other men call other umpires several things.
"I'm here fighting for women's rights and for women's equality and for all kinds of stuff. For me to say 'thief' and for him to take a game, it made me feel like it was a sexist remark.
"He's never taken a game from a man because they said 'thief'. For me it blows my mind. But I'm going to continue to fight for women and to fight for us to have equal – like Cornet should be able to take off her shirt without getting a fine.
"This is outrageous."
Reuters