Anthony Joshua delivered a stunning finish to stop a game Alexander Povetkin and retain his world heavyweight titles at Wembley Stadium.
The IBF, WBO and WBA champion, criticised in some quarters for failing to finalise a deal with the division's other high-profile names, responded emphatically with a seventh-round stoppage of the Russian, who had never been beaten inside the distance.
After an early chess match in which Joshua suffered a bloodied nose before cutting his rival, the Briton grew in confidence and a savage right hand followed by a left hook began an onslaught which would prove telling.
Another right-left combination downed Povetkin, who somehow made the count, only to stagger into a left hook which saw him slump into the ropes, leaving referee Steve Gray with no option but to intervene.
Roars poured down to ringside as the rain had all day, with Joshua's corner ecstatic and rightly so. His display showcased poise, intellect and power, sending a message to the heavyweight division that the champion will take some stopping.
I got my knockout streak back – Joshua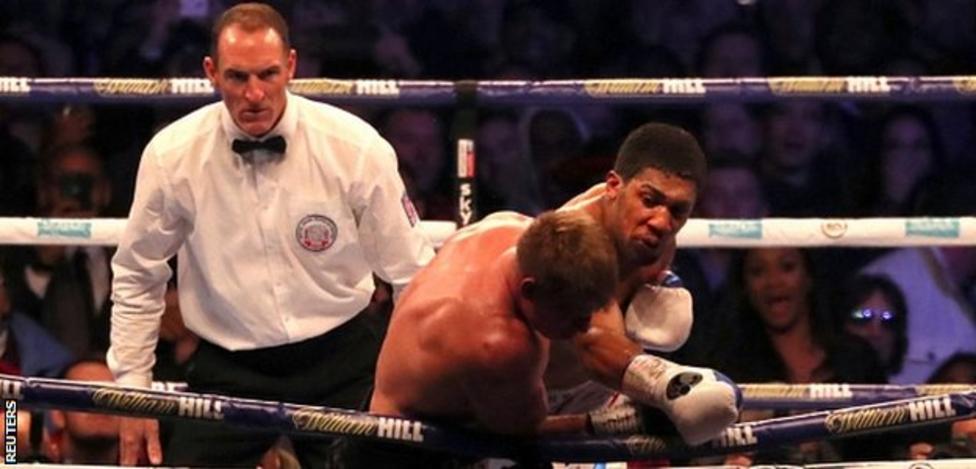 Joshua, who had been suffering from flu during his preparations and had a problem with his right hand before the fight, paid tribute to his opponent.
"Povetkin is a very tough challenger, he proved that with good left hooks and counter punches," he said.
"I came in here to have fun, and give it my best. I knew he was strong to the head but weak to the body. I was just mixing it up.
"It could have been seven, maybe nine, maybe 12 rounds to get him out of there, but the ultimate aim was to be victorious.
"And I got my knockout streak back," added Joshua, who was taken to 12 rounds for the first time in his previous fight against New Zealand's Joseph Parker in Cardiff in April.
Joshua back in limelight after Fury v Wilder announcement
Less than 24 hours after WBC champion Deontay Wilder and Tyson Fury confirmed their 1 December fight, Joshua snatched the heavyweight limelight back his way.
He will be back at Wembley on 13 April and whoever steps in with him next will face questions as to how they thwart the champion after a display like this.
His last outing here was a see-saw encounter with Wladimir Klitschko. On that night, he came of age, setting new levels of excitement and expectation.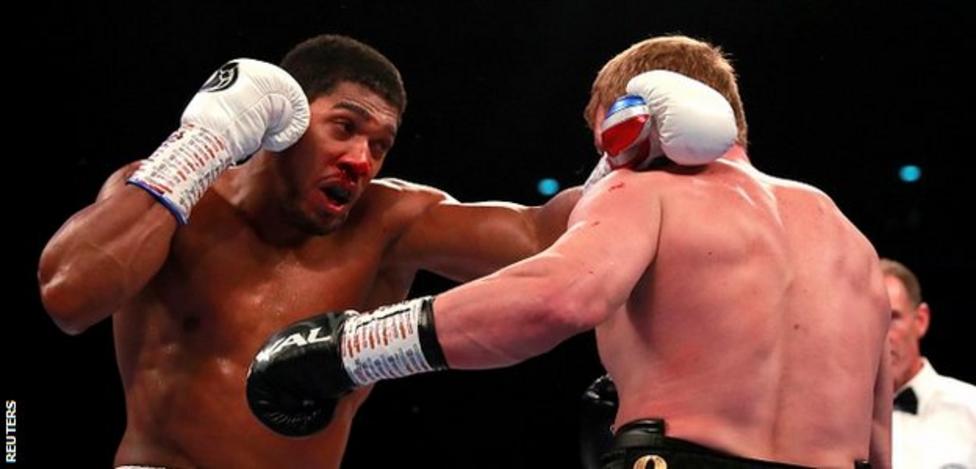 The Joshua name now carries such weight that the likes of Povetkin – the 2004 Olympic super-heavyweight champion and a mandatory challenger who had lost just once in 35 outings previously – was arguably overlooked by the masses.
But, crucially, not by Joshua's team. There had been rumblings, even before the fight was signed, that those around him saw Povetkin – who has twice failed doping tests – as a significant risk. The challenger's experience, low centre of gravity and sleight of foot, despite his 39 years, were live threats.
After landing a solid left hook on the bell in the first round, Povetkin clearly had Joshua's attention but by the fourth, the Briton had dropped his lead hand, showing confidence in his judgement of distance against a man known for leaping in with shots from obscure angles.
He slipped a shot in the fourth to drive an uppercut home, drawing groans ringside. With Povetkin cut above his left eye in the fifth, a Joshua right hook found the temple. Then the Russian winged a left hook home in the sixth and he chased his man, sensing vulnerability.
The pair tapped gloves to start the seventh, a sign respect was flowing. But Joshua broke the challenger's heart. From a position of calm, he erupted into life in the middle of the ring, with a corking right hand sending Povetkin backwards and a left hook flowing seamlessly off the back of it.
Moments later, with Povetkin limp against the ropes, it was over – another step in a remarkable career.
With 22 professional bouts under their belts, Wladimir Klitschko, Lennox Lewis and Mike Tyson were still chasing a world title. Joshua, by contrast, has now defended his six times.
'The most impressive display of Joshua's career' – analysis
BBC Sport boxing correspondent Mike Costello: "It was a brilliantly placed and timed right hand. He was getting the measure of Povetkin in the early rounds. Unlike Carlos Takam and Parker – Joshua's last two opponents – Povetkin was here to win.
"I think the quality of opponent, for all Povetkin has done, for me, the way he was beaten makes it the most impressive display of Joshua's career."
BBC Radio 5 live boxing expert Steve Bunce: "It was a cracking right hand. I don't think Joshua was hurt or stung at all and that's an achievement. He was moving great, throwing different shots, so it was controlled and he didn't waste anything."
Who's next?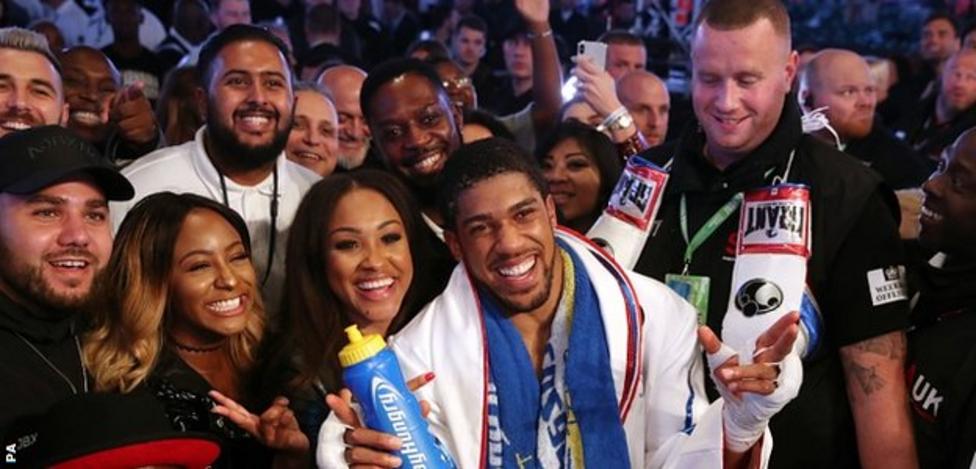 There will be some who continue to demand a stellar name. Povetkin's failed to sell Wembley out, with around 70,000 turning out on a sodden day.
But the Russian – only beaten by Klitschko in the past – is now a glowing name on Joshua's record.
Taking on the likes of Fury or Wilder next makes sense from a boxing perspective but outside of the ring is a different matter. Negotiations with Wilder have proven tedious, while Fury will need to beat the American in December to be able to face Joshua as soon as April.
Dillian Whyte – already beaten by Joshua but much improved since – appears the most likely candidate at this stage. His own fine form and a long-standing rivalry will be easy sells for Eddie Hearn, who promotes both men.
"My number one choice would be Wilder," said Joshua. "All I want to fight is serious challengers. If Dillian wants to fight here he is also more than welcome."
Heavyweights will continue to call Joshua's name. The type of pay day that comes with a man who has sold more than 300,000 tickets in four fights is a jackpot draw.
After this destructive victory, though, rivals will know they are stepping in with a man who is getting better. – Source: BBC