Chris Brown has denied there was any foul play after being photographed with his hands around a woman's throat.
The 28-year-old went on the defensive via Instagram on Thursday after the ominous photos were published.
'THANKS for all the publicity today,' he told his 42.4million followers. 'Y'all know damn well I ain't going down that road.
© Instagram 'My HOMIES': The 28-year-old went on the defensive via Instagram on Thursday after the ominous photos were published. 'There is no need to even defend myself on the matter. Everyone that's around (girl/guy) are my HOMIES.
'NO FOUL PLAY… NO IGNORANT SH*T. END of discussion. LOVE [heart emoji]'.
The Kiss Kiss hitmaker, who has a history of domestic violence, appeared to suggest the incident was just friendly horseplay.
In the photos, taken in Miami on Monday morning, the R&B star is seen with his hands around a woman's neck as another guest appears to try and intervene.
© Getty Chris Brown The woman looks distressed in several of the images but later smiles as Brown releases his grip.
There are three liquor bottles and one wine bottle visible around them
According to TMZ, the woman pictured has insisted it was just a bit of fun.
The star and a group of friends were reportedly staying at a rented home during the Ultra electronic music festival in the city.
The singer's lawyer Mark Geragos, told TMZ: 'She's a friend. It's obviously playful as she confirmed. Whoever invaded their privacy will be held accountable.'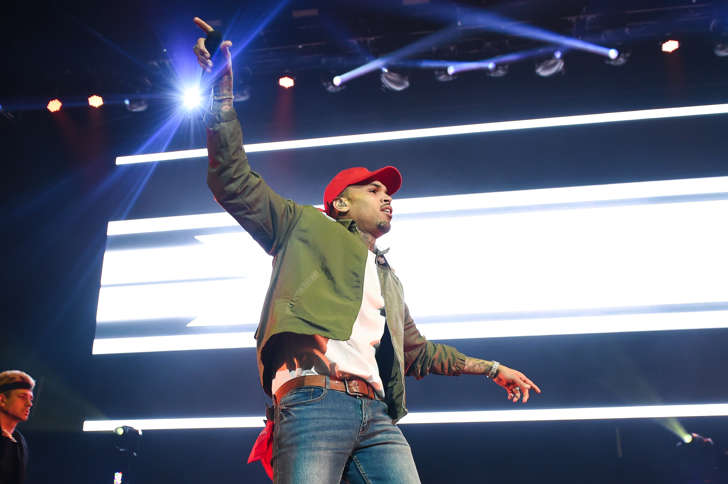 © Getty Singer Chris Brown performs on stage at The Big Show at Little Caesars Arena on December 28, 2017 in Detroit, Michigan. Playful or not the images are especially jarring given Brown's history of domestic violence.
The Loyal hitmaker was convicted of felony assault against ex-girlfriend Rihanna in 2009 after they got into a fight after a pre-Grammys party.
He formally completed his probation in 2015.
Since 2009 the star has gained a lengthy rap sheet.
In 2012 Brown was involved in a brawl with Drake and his entourage at a New York nightclub. The fight was apparently over Rihanna.
In January 2013 the Run It! hitmaker was involved in an altercation with Frank Ocean in West Hollywood where he is alleged to have punched or pushed the singer. No charges were pressed.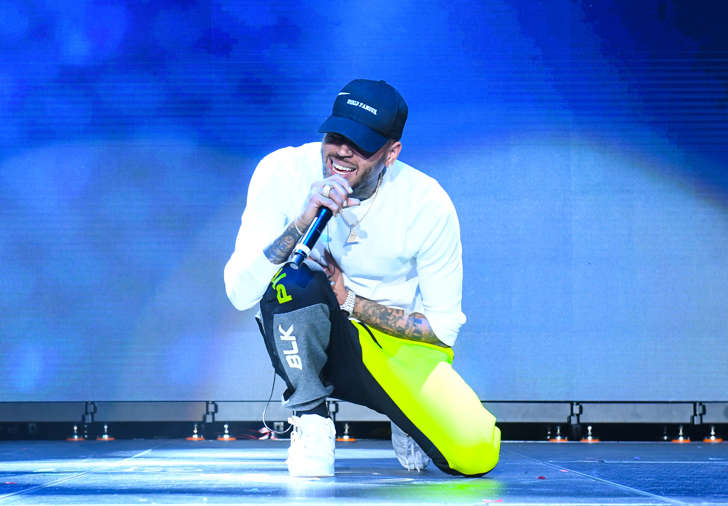 © Getty Singer Chris Brown performs onstage at 3rd Annual V-103 Winterfest Concert at Philips Arena on December 16, 2017 in Atlanta, Georgia. In October that same year he was arrested for felony assault after punching a man outside the W Hotel in Washington D.C. The charge was reduced to a misdemeanor and he entered a rehab center while awaiting sentencing.
He was accused of punching a woman in the face after she tried to take a picture of him in a Las Vegas nightclub in June 2016.
Later that month his former manager Mike G filed suit in Superior Court of the State of California claiming Brown assaulted him in an unprovoked, 'drug-fueled rage'.
In August 2016 the star was arrested on suspicion of assault with a deadly weapon after a woman alleged the star had pointed a gun at her face in his home earlier that morning. During a standoff with police Brown declared he was innocent in a statement on Instagram.