New English Premier League chief executive Richard Masters awkwardly fist-bumped and hand-slapped a number of Liverpool's back room and playing staff – he just blanked others – as he handed over League winners' medals at 
a lavish trophy presentation at Anfield
on Wednesday night.
He didn't appear to be enjoying his first coronation, but he would have been forgiven for having more pressing matters on his mind.
Masters was handed the wheel to the good ship EPL in December last year and immediately sought to navigate a lucrative course into the riches of China.
In one of his earliest manoeuvres as chief, Masters oversaw the Premier League launching its three-year, US$700 million deal with Chinese broadcaster PP Sports, a subsidiary of retail giants Suning, at last year's (increasingly erstwhile) Premier League Asia Trophy in Shanghai.
That day, optimism abounded as Masters spoke of a bright future for the Premier League in China.
Premier League clubs' focus on China market means they'll keep making missteps when it comes to morals 17 Dec 2019.
"We look forward to working closely with PP Sports for the next three years to bring Premier League football to our growing fan base in China," he said.
Oh, the 
Premier League Asia Trophy
.
That now looks further from our shores than ever, but I digress.
Spare a thought for Masters; his predecessor Richard Scudamore oversaw the League for 10 years through a veritable boom only pockmarked by the odd bung inquiry and various misdeeds of players. The league went from strength to strength under his stewardship and revenues were higher than ever. Masters, meanwhile, has endured a tempestuous ascension to the EPL hot seat.
He has been rightly credited with his  efforts to get the Premier League back under way after a lengthy pause following the outbreak of  Covid-19. Britain has been badly affected by the pandemic and  getting the competition up and running again was a triumph  in itself. But now, just weeks after riding that wave, a potentially more dangerous one is swelling. Liverpool players receive long-awaited Premier League trophy on Kop 23 Jul 2020.
There are early indications that the Chinese government will attempt to hobble the UK's most successful entertainment export in a manner similar to how it did with America's NBA
A quick recap if you missed that one: the Houston Rockets general manager Daryl Morey  spoke out on Twitter in support of Hong Kong pro-democracy protesters shortly before an NBA exhibition trip to China.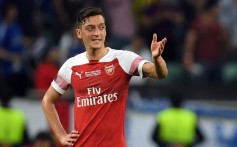 China reacted angrily
to the "interference", and the long-planned exhibition games on the mainland were pulled at the eleventh hour. China blocked broadcasts of games involving the Rockets (the former team of Chinese basketball legend Yao Ming) after NBA chief
David Silver refused to offer up Morey as a sacrificial lamb for the misstep. Silver's determination to defend the free speech of the NBA's personnel led to China enacting a full blackout of the NBA in October last year. Silver said recently the whole episode has
inflicted "substantial" losses
of around US$700 million on his organisation, so far.
Now, nine months on from the start of the NBA-China row, state broadcaster  CCTV remains resolute in its stance towards the organisation and said there would be no imminent easing of the blackout on NBA games. "China Central Television refutes rumours that it would restore streaming NBA games, reiterating its consistent stance on national sovereignty," it reiterated in May.
If that is how China responds to an errant and very short-lived (Morey removed the tweet hours later) social media-sized slight, how it will react to the  UK government backtracking and pulling out of a multibillion-dollar trade agreement, apparently at the behest of the United States, is anybody's guess.
'We look forward to working closely with PP Sports for the next three years to bring Premier League football to our growing fan base in China
After some mildly  threatening rhetoric, it looks like China will opt to hit the Premier League in the pocket.
Reports circulated on social media on Wednesday that China had pulled planned coverage of the Liverpool vs Chelsea Premier League match at short notice, and that the remaining round of the League season on Sunday would not be broadcast.
In the event, the Liverpool-Chelsea match was shown on CCTV, but it was apparently shunted to the less viewed CCTV5+. And the channel's weekend schedule still appears to show that it will broadcast live coverage of Leicester City against Manchester United on Sunday.
Primary broadcasters PP Sports and Suning appear insulated from the whims of the Chinese government, to a point. They were made to fall in line with a directive from the foreign ministry in December when it hastily pulled a match between Arsenal and Manchester City from its schedule, and limited subsequent coverage of the North London club in reaction to comments made by Arsenal midfielder Mesut Ozil in relation to China's treatment of its Muslim Uygur minority.
However, perhaps we shouldn't look too much into the broadcast scheduling, which is prone to being changed at a moment's notice in China, and rather should pay attention to the voices in China strongly suggesting something is afoot.
The last-minute shunting was likely a shot across the bow. How long before China's all powerful General Administration of Sport dictates that PP Sports cease its Premier League broadcasts?
Aside from the potential damage for the Premier League's bottom line if the fallout goes on, the greater, more imminent threat is to its members.
Could the row spread as far as individual sponsorship deals clubs have with Chinese entities? Most clubs have aggressively sought to expand into the Asian market, with Chinese audiences a primary target.
A sudden, Chinese state-mandated withdrawal of financial support to English clubs – many of whom are engaged in long-term sponsorship deals and commercial partnerships with Chinese companies, some who are owned outright – could be catastrophic for clubs at a hugely precarious time in the current economy.
If loose lips have managed to lilt the mighty NBA on its course in China, Masters must be fearing that the waves made by the UK government could yet sink the Premier League.
Source: South China Morning Post