Robert Mugabe's longtime adversary Morgan Tsvangirai is critically ill in a hospital in South Africa, according to local reports.
The former Zimbabwean prime minister and leader of the party Movement for Democratic Change (MDC), who is being treated for colon cancer, is reportedly suffering from weight loss, muscle thinning and exhaustion.
He has been receiving treatment since June 2017 in Johannesburg and returned to the hospital early in January.
What is his current condition?
Zimbabwe's Bulawayo24 news website said Mr Tsvangirai's family had told reporters the 65-year-old politician's health had deteriorated rapidly on Monday, reporting breathing problems and difficulty with eating and drinking.
An MDC party source quoted by Reuters said Mr Tsvangirai "is critically ill and we should brace for the worst".
But despite the warning from his party, a Twitter account apparently run by Mr Tsvangirai has disputed the extent of his illness.
"I am shocked to read in the press that I am in a critical condition," a tweet posted on Tuesday read. "Of course I have cancer and not feeling too well but I am stable and the process is under control. I have been frequently on twitter of late, I am recovering."
Mr Tsvangirai's spokesman, Luke Tamborinyoka, later said the MDC leader was "stable but the nation should keep on praying".
Who is Morgan Tsvangirai?
Mr Tsvangirai has been one of Zimbabwe's most visible and vocal opponents of Mr Mugabe's 37-year grip on the country's presidency.
During his opposition to Mr Mugabe's regime, he has been imprisoned and beaten on numerous occasions.
The pair's relationship began after the 28-year-old Mr Tsvangirai joined Mr Mugabe's Zanu PF party in the wake of the country's transition to independence in 1980. He was initially a strong supporter of Mr Mugabe and rose to become one of the party's senior officials.
By the late 1980s his involvement with the country's trade union movement, had seen his frustration with the government grow.
By 1999 he had founded his own party, the MDC, which positioned itself as a direct opposition party to Mr Mugabe's rule.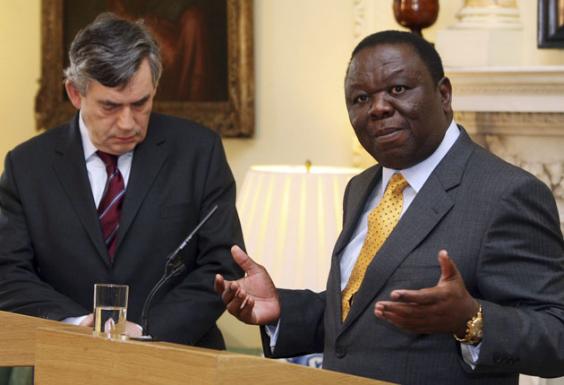 In 2000 he was arrested on the charge of treason for allegedly threatening President Mugabe. In front of a 40,000 strong rally in the capital, Harare, he said if Mr Mugabe did not step down "we will remove you violently". But he argued he was only issuing a warning to the President that "there is a long line of dictators who have refused to go peacefully, and the people have removed them violently".
The courts later dismissed the charges.
He then fought and lost the 2002 presidential election amid widespread allegations Zanu PF had rigged the election. The EU and the Commonwealth dismissed the election as fraudulent.
Mr Tsvangirai was again arrested in 2003 on charges of inciting violence during a press conference in which he said voters would not be intimidated by Mr Mugabe's "forces of repression".
In 2007, months ahead of the country's 2008 presidential election, the 55-year-old MDC leader was arrested on his way to a prayer rally in Harare, and during his detention he was brutally beaten and reportedly whipped by a soldier with a belt until he lost consciousness.
The incident prompted widespread protests in Zimbabwe and attracted international condemnation.
He was arrested again in 2007 and held by police hours before he was booked to deliver a speech about political violence in Zimbabwe.
That year, Mr Tsvangirai's bodyguard of over 10 years died after also allegedly being brutally beaten.
Part way through the 2008 election, the politician delayed a flight from Northern Ireland back to Zimbabwe after an assassination plot was deemed credible by his party. He was also arrested and detained on more than one occasion that year.
The 2008 election was bitterly disputed with Mr Tsvangirai's MDC declaring it had won an outright victory. Eventually, a power sharing deal was struck whereby Mr Mugabe remained as President, but Mr Tsvangirai was named Prime Minister of Zimbabwe and sworn in in February 2009.
The unity government, as it was known, came to an end in 2013, when Mr Mugabe was re-elected President and the office of Prime Minister abolished.
Last November Mr Tsvangirai expressed hope following the resignation of Mr Mugabe. He said he would like to see a "new trajectory" for Zimbabwe with free and fair elections.
Despite half a lifetime of bitter rivalry with Mr Mugabe, the MDC leader said Mr Mugabe should be allowed to "go and rest for his last days".
He is now the chief opponent of Zimbabwe's new President, Emmerson Mnangagwa, but his illness has seen cracks growing in the MDC as senior members jostle over who should succeed him. – Independent (UK)