THE High Court has with immediate effect reinstated businessman Wicknel Chivayo's controversial Gwanda solar project ruling that Zimbabwe Power Company (ZPC) was in breach of their contract.
Chivayo, through his company Intratrek Zimbabwe (Pvt) Ltd (Intratrek) had sued the Zimbabwe Power Company (ZPC) US$22 million for defamation and his application was upheld by the courts.
He had argued ZPC had tarnished his integrity by getting him arrested on fraud allegations emanating from the named project.
After being cleared by the courts Chivayo sued ZPC last year accusing it of breaching their deal, which he successfully argued was still valid.
High Court judge Justice Siyabona Musithu upheld Chivayo's application in a judgement handed down Wednesday morning before slapping ZPC with costs on a higher scale.
"Resultantly it is ordered that: The procurement contract for the Engineering, Procurement and Construction (EPC Contract) of the 100MW Gwanda Solar Project (ZPC 304/2015) between the plaintiff and the defendant as amended is valid and binding between them.
"Consequent to the declaration of the validity of the EPC Contract, an order for specific performance of the said contract is hereby granted.
"The defendant's (ZPC) claim in re-convention is hereby dismissed with costs. The defendant shall pay the plaintiff's costs of suit in the claim in convention."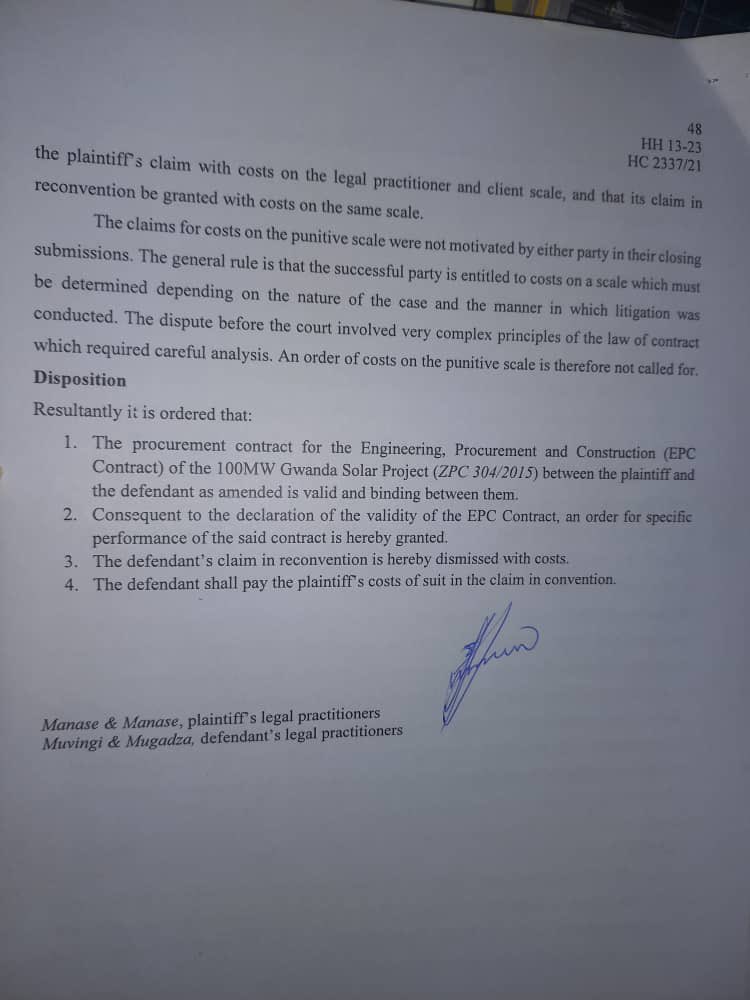 The ruling brings to an end the legal dispute that has been between the parties since 2015.
The agreement between ZPC and Intratrek was signed subsequent to a successful tender bid, for the engineering, procurement, and construction of a 1 000MW Gwanda Solar Power Station Project.
Intratrek was awarded as the lowest compliant bidder to specification out of 6 bidders at a cost of US$173 million.
ZPC later sued Chivayo for fraud but he was cleared by the courts.
In his Judgement the judge criticised ZPC for trying tormenting its legal contractor who won the project in an open tender.
The judge showered praises on Chivayo who was the sole witness during the trial.
He said he was consistent and trustworthy.
Alternatively, Intratrek had argued that it should be granted an award of damages in the sum of US$25 000 000 as it had incurred expenses whilst trying to secure funding for the project.
The judge ruled, "The plaintiff maintained that it was required under the contract to secure funding for the entire project through a debt financing arrangement.
"The plaintiff was expected to engage in a robust and expensive process of engaging international banks and project financial institutions. It incurred expenses in the sum of US$3 000 000 from 2013 to 2018.
"Further, the contract itself was of significant value and if it was to be implemented, the plaintiff expected to realise a return on investment of US$22 000 000. As a result of the breach the plaintiff had therefore suffered a loss of profit."